I haven't mentioned it around these parts but one of the other awesome children's book challenges going on right now is being hosted by 5 Minutes for Books. It's the Children's Classics Mystery Challenge.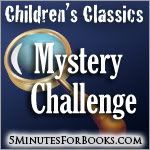 Ever feel like revisiting some of your old friends like Nancy Drew, Trixie Belden, the Hardy Boys,Encyclopedia Brown, etc.? Well now's your chance. To learn more about this contest, start by
CLICKING HERE
.
As added incentive to participate, the team is also hosting a giveaway of five
sterling silver lockets
. They look like this:
How's that?
Well, click over
HERE to 5 Minutes for Mom
to discover how you can sign up at 5 Minutes for Books and follow the trail until you correctly enter and (*whew*) win one of
five
of these beauties from
Emma Parker & Co
.
Even if you'd rather not participate in this particular challenge itself (although it's a great way to read aloud to your soon-to-be-tweens) you can still enter the contest to win the locket. For details on that,
visit 5 Minutes for Mom to find out how
. (It's really easy. Browse
Emma Parker
& Co. and leave a comment at 5 Minutes for Moms saying which piece is your favorite.) How hard is that?
The pot is merely sweeter if you are also having fun reading these books with your kids - or even by yourself!